Patient Feedback
Birmingham and the West Midlands
Patient Feedback & Questions
Please find below some patient feedback both directly from the parents and patients and also through Equiniti which is an independent organisation that collects reviews and ratings off Consultants and Doctors.
My daughter has been suffering with Enuresis for some time and Dr Tewary has been amazing from the outset. I can't recommend someone as highly as him.
My son is still under Paediatrician. We requested if he could be under Dr Tewary again for being so vigilant, understanding, kind and patient with us. I would like to thank him.
In the past few months our grand-daughter had been both in-patient and out-patient in the children's ward. Prior to her admittance we were desperate that the cause of her illness would ever be investigated, but then, you came in the picture and immediately recognised the need for that investigation.
I now wish you to know how very much your efforts have been appreciated and we wish to thank you sincerely for all that you have done.
We are writing to show our gratitude to staff at Lyndon Ground for the care and attention you gave to our son when he was brought into hospital in April, 2005. We particularly would like to thank Dr K Tewary, words can not express our appreciation to him. When our son was brought into the hospital Doctor Tewary gave us hope with his initial quick responsive care and attention and we feel that if it was not for his thorough diagnosis our son might not have been with us today. Doctor Tewary has also showed great interest in his recovery.
Our daughter was treated by Dr Tewary at Spire Parkway. We are extremely grateful for his superb care; he was able to diagnose something that had been missed by other doctors. Dr Tewary also provided excellent aftercare, support and advice which was invaluable to us. He is also very personable and caring in his approach. We can't recommend Dr Tewary highly enough!
Dr Tewary has proved to be an excellent Paediatrician. I have had several patients that he has seen with airway and breathing problems who have significantly benefited after seeing Dr Tewary. From a professional perspective he always shows great communication with both patients and colleagues. I always get feedback from him regarding patients.
Dr Tewary is always polite and makes time to listen to my sons views as well as mine as a parent. My son is always able to understand his treatment plan as it is explained to him very well.
What the Doctor did well is he told me to be calm and what to take to treat chest pain. He knows a lot about Paediatrics and I felt safe in his advice and help. I would highly recommend Dr Tewary for any Paediatric issue.
Easy to talk to and took on board various issues. He really has time for the patient.
Very polite and softly spoken. Good thing that he understood the culture and could respond to questions regarding some practices.
Independant Patient Feedback Analysis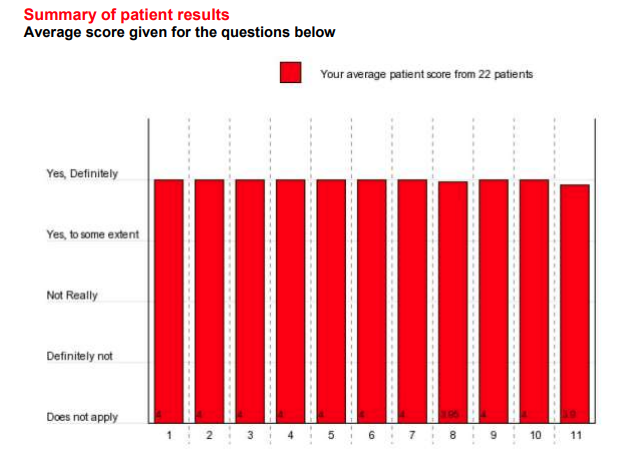 Questions that were put to the patients in the above report:
Was the doctor polite and considerate?

Did the doctor listen to what you had to say?

Did the doctor give you enough opportunity to ask questions?

Did the doctor answer all your questions?

Did the doctor explain things in a way you could understand?

Are you involved as much as you want to be in the decisions about your care and treatment?

Did you have confidence in the doctor?

Did the doctor respect your views?

If the doctor examined you, did he or she ask your permission?

If the doctor examined you, did he or she respect your privacy and dignity?

By the end of the consultation did you feel better able to understand and/or manage your condition and your care?