About Dr Tewary
Specialist Paediatrician in Birmingham and the West Midlands
Consultant Paediatrician in Birmingham
Dr Tewary has many years' experience in Paediatrics and is therefore uniquely qualified to help you with any of your child's health issues. Further to his extensive NHS background and Private work in Paediatrics, Dr Tewary has also further extended his health coverage with his life coaching skills and be able to help with the emotional aspect of any issue within the family. This is something unique to Dr Tewary's practice and families find this very helpful and comforting that they are not only getting the medical advice and help they deserve but also the emotional support to get through any issues. Dr Tewary has done a special appearance on ITV for 'Sleep Disorders in Children' in January 2021.
Dr Kishor Tewary is a private specialist consultant paediatrician who offers a range of help and advice on a number of diseases and health concerns relating to children such as Urinary Tract Infections, Bed Wetting and Enuresis to name just a few.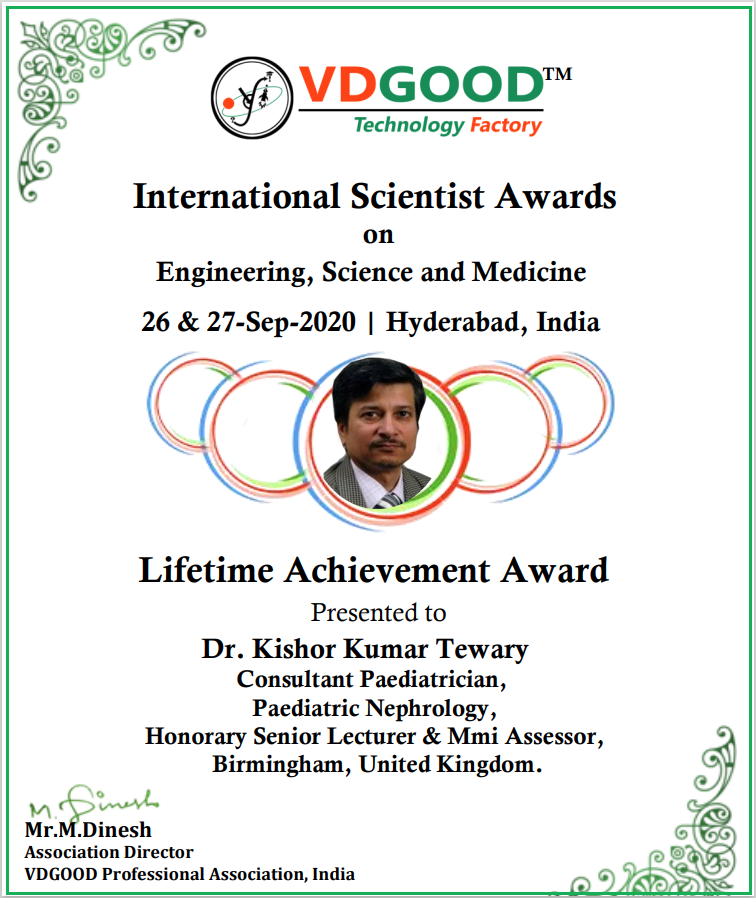 Lifetime Achievement Award
Dr Kishor Tewary has had a very long and distinguished career caring for and consulting on matters around Paediatrics. As a recognition of his work in this field, he was recently awarded a Lifetime Achievement Award by the prestigious VDGOOD based in India which is where Dr Kishor Tewary qualified and started his career as a consultant paediatrician.
Paediatric Conditions
Feeding issues- Gastro-oesophageal reflux, Colics, Cow's Milk Protein Intolerance/allergy, Lactose
Intolerance
Chronic/recurrent diarrhoea
Heart murmur
Pain abdomen, Bowel disorders
Constipation
Failure to thrive, concerns about weight, growth and development
Asthma/ Hay fever/Atopic conditions
Fits, faints, funny turns
Chest infections, Wheeze
General paediatric allergy disorders
Child specialist
Further to the above issues, Dr Tewary provides special expertise in management of UTI, Bed wetting, Enuresis, and bladder conditions.
He has an active liaison with specialists in the field of endocrinology, gastro-enterology, respiratory and allergy disorders. He can lead you in the right direction in these and other specialities, should the need arise.
Qualifications
Dr Tewary graduated in Medicine MBBS (Bachelor of Medicine and Bachelor of Surgery) in 1987 subsequently completed post-graduation (MD) in paediatrics in 1989. He then acquired further training in child health management to work as a consultant in India.
In order to enhance his training in advanced child health disease he came to UK in 1997. While training in the NHS he obtained MRCP in 1998 in UK, followed by MRCPCH in 1999.
​He is also a FRCPCH (Fellow of Royal College of Paediatrics & Child Health) since 2007.
While attaining these qualifications, he has developed sub-speciality interest in paediatric kidney & bladder disorders. His training in this field was gained at Bristol Children's hospital and University Hospital of Cardiff.